Tag: Austin
by ClickPicTony on Apr.19, 2009, under Holidays, Rants
So a long time ago (okay, maybe it was only the middle of March) in a galaxy far, far away (and by far away I mean a two-hour drive to Austin), I had a weekend full of fun and excitement. Hell, I was in Austin hanging out and was able to see Watchmen with a group of 10 other nerds: how cool is that? But I'd definitely say that one of the highlights of that weekend was a media expo in Austin called STAPLE. Needless to say, I was pleasantly surprised.
Leave a Comment
:Alan Porter, Art, Austin, busygamer.com, Comics, Con, Danielle Corsetto, Jenifer Bryan, Mark Gonyea, Nerdboy Comics, Red Handed Studios, Robert Stikmanz, Staple!, Texas, Torc Press, Uncle Envelope, Webcomics
more...
by ClickPicTony on Mar.01, 2009, under Site News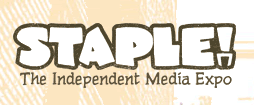 So next weekend (March 7th) I'm going to be heading to a little shindig in Austin, Texas, called STAPLE! The Independent Media Expo. Staple! is an event to promote independently created media. They're going to have 85 exhibitors of comics, zines, art, animation, literature and a slew of great people to enjoy it with. Some of the special guests and events they'll have include:
Jeffrey Brown, graphic novelist and creator of Clumsy;
The creator of Usagi Yojimbo, Stan Sakai;
Achewood creator Chris Onstad;
An independent publishing panel discussion; and
A performance by ColdTowne Theater.
It definitely seems like it will be tons of fun. So I hope you guys can make it out there. If you can, feel free to look me up to say hi, tell me how much you like the website, or simply punch me in the face. I'll be the guy wearing the red kilt and grey fedora. It's just my style.
Also look for a blog about the experience the following week. If you do say hi, you might end up in it. If you punch me in the face, you'll definitely end up in it… just not in a good way.
Plan out your road-trip to STAPLE! and other nerd cons and expos across the country on our forums!
Leave a Comment
:Animation, Austin, Comics, Con, Expo, Kilt, Staple!, Texas
more...